Logbook

2nd edition of CanSat Junior Açores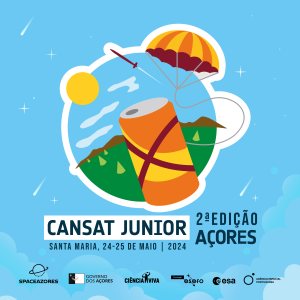 Registration for the 2nd edition of CanSat Junior Azores is now open!
This competition is aimed at basic education students (3rd cycle) from all schools in the Autonomous Region of the Azores, with the main objective of providing young participants with contact with basic but very practical science and engineering applications in a "real" project. absolutely exciting and impactful in the development of scientific, technical, communication, teamwork and problem-solving skills.
Registration will be open until November 30, 2023.
WHAT IS A CANSAT?
A CanSat ("Can" = can + "Sat" = Satellite) is an educational project created in Portugal by ESERO and Ciência Viva, aimed at students in the 3rd basic cycle. It is a simplified version of the European Space Agency (ESA) CanSat project, and consists of building a functional model of a microsatellite capable of measuring atmospheric parameters and sending telemetry to a base station. The CanSat is launched from a certain altitude and during the descent, controlled by a parachute built by the students, it transmits data on temperature, air pressure and altitude, to the base station made up of an antenna, also built by the students, connected to a receiving device and a computer.
WHO CAN PARTICIPATE?
Teams of students (minimum of 3 and maximum of 6 members) guided by a teacher. In this 2nd edition, a team that has already participated must include at least one student who has never participated in the CanSat Junior project. A school can register more than one team.
IMPORTANT DATES
>> Until November 30, 2023 – Registration for the project and submission of videos.
>> December 4th to 8th, 2023 – Team selection.
>> December 11, 2023 – Communication to the supervising teachers of the results of the selection process.
>> January 20th or 27th, 2024 – Teacher training workshop, on São Miguel Island (date to be confirmed).
>> May 24th and 25th, 2024 – Final of the CanSat Junior Azores competition, on Santa Maria Island.
This site is registered on
wpml.org
as a development site.